Hello Friends!
In 2013, I was introduced to Dr. Hill's Daily Recommendations. They are still some of the BEST ways I know to help people begin activating a personal Whōleness Journey with consistent, daily health habits.
Let's take a look, shall we?
In the video, I touch on the need for these Supportive Foundations:
Nutrition [food and supplements]
Reducing Toxicity [water intake and citrus is a simple start]
Managing Stress [Balance oil and Frankincense help with "less-ing the stressing!"]
Exercise [too much sitting raises illness risk – see below – and Deep Blue helps soothe exercised muscles and joints]
Rest [Serenity Complex and using restful oils like Serenity, Lavender, or Cedarwood can help promote deeper sleep].
There are proven risks in sitting too much!
When you sit for prolonged periods in excess, you use less energy, and this can invite health concerns over time, which include:
abnormal cholesterol levels
high blood sugar
excess body fat/weight, particularly around the abdomen
increased blood pressure
cardiovascular disease
even risks of cancer
the risks of sedentary lifestyle were similar to those who smoke and to those with significant obesity
*** Imagine what just 30 days might look like for you, if you begin to develop healthy habits for an inspired, active, happier YOU!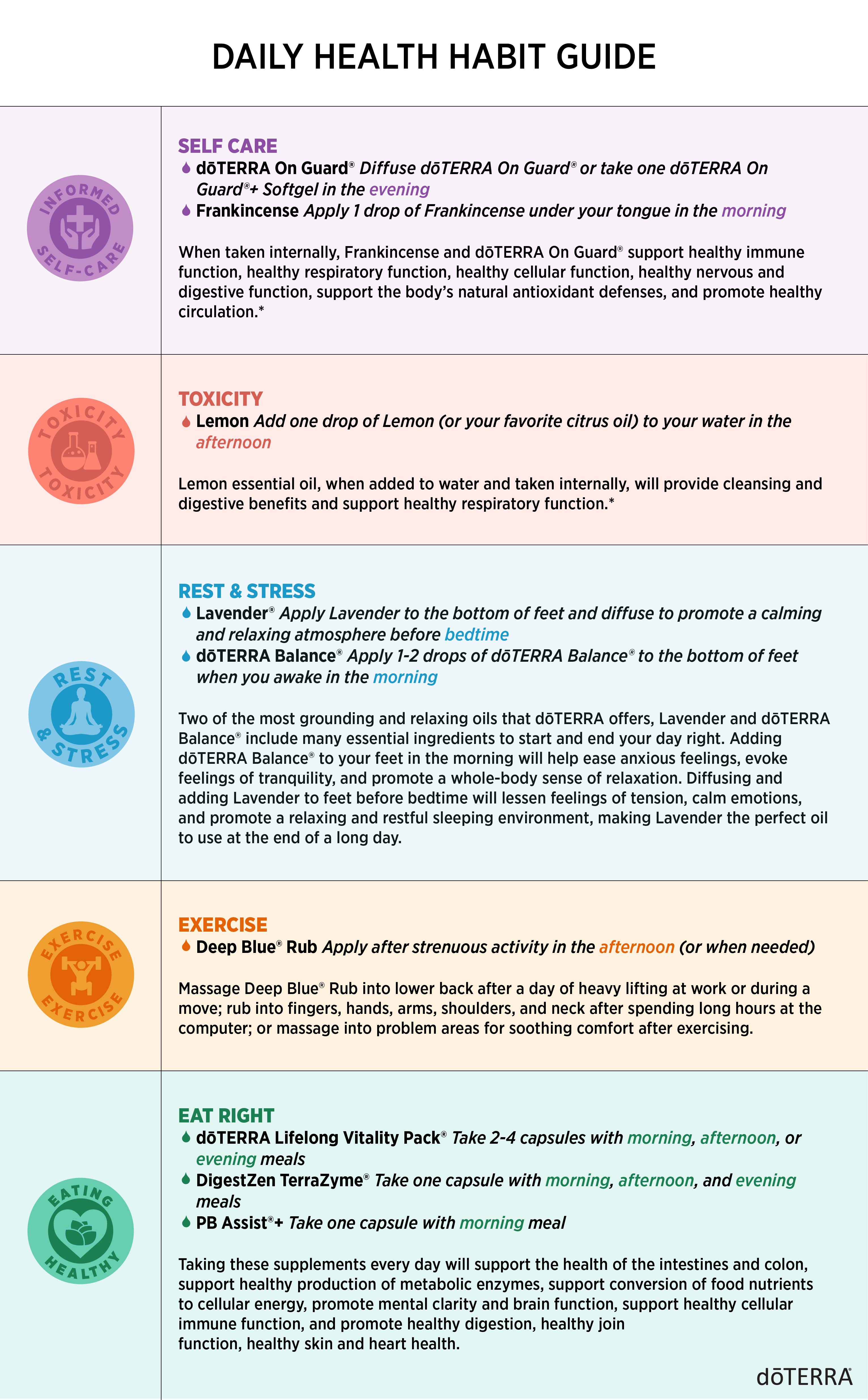 Click HERE to get STARTED with your own wholesale customer membership and receive the Daily Products needed to do this! You will also have one year of wholesale pricing and receive a beautiful introductory booklet to help you take your first steps!
Click HERE to get started with your own wholesale membership, and receive the DAILY PRODUCT items you need for this journey, along with other amazing oils included in the Aroma Touch Diffused kit [YOU can learn the aroma touch technique, and this kit gets you started with a petal diffuser, too]. You will also receive a beautiful booklet to help you take your first steps!
If you'd like to get started, but have questions in how to begin more simply, or in a way that best fits your budget, please contact me for a personalized plan of action! We'd love to help you get off to just the right start… for YOU!
You can browse the site here.
(Don't worry; we're friendly! And we all started somewhere!)
Would you like to print your own Daily Tracker? You can find that HERE and you can begin tracking your inspired actions as soon as you have everything you need for the journey…
Finally, here are some of my favorite images that I referred to in today's video. ENJOY!!!
Let me know how we can serve you.
XŌ!
Ami Shroyer